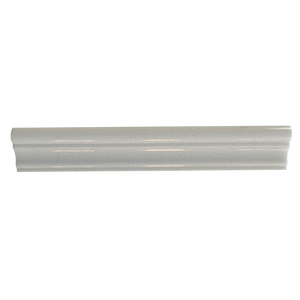 All Marble Tiles
Thassos White Polished Marble 2x12 Crown Chair-Rail Moulding
MINIMUM ORDER OF 40SF REQUIRED FOR THIS PRODUCT. SEE DESCRIPTION FOR DETAILS.
Regular price
$14.00
$0.00
Unit price
per
Samples are a smaller part of the original tile. As marble is a natural stone there is variation in color and veining between products. Due to different lighting from your computer screen the image shown may vary slightly in color. It is recommeded to order a sample first. 

Material: Thassos
Color: White 
Size: 2"x12"
Finish: Polished
Sold By Piece
Recommended Installation: Floor, Wall, Accent, Backsplash, Shower
40 SF of material required to ship with this item
White has always been a color of elegance and you can choose it as a theme for your interior when you purchase the Thassos White Marble Collection. This tiles spark beauty wherever they are installed; in the bathroom, kitchen, living room or even out door. Using either a classic or modern style approach, it's about time you transformed how your house looked with Thassos marble tiles.
Nothing can compare to Thassos white marble in beauty, and the possibility of playing around with colors gives you multiple options of beautifying your house. Marble stone is also known to be durable and tough in nature, so you won't ever complain about a chip on the floor or a crack on the wall. Our Thassos White Marble collection will last you a lifetime and in this lifetime your home will always have a beautiful and natural edge you will appreciate every day.It's about time you got rid of the cement floors and rotting wooden floors and have a complete makeover.
Thassos White Marble tiles will make your home striking and elegant as opposed to the dullness you once knew of.Just make your order today of any tile choice in the Thassos White Marble collection we have and we'll send the package and installation experts to your doorstep.
The 40SF can be made up of a combination of products from our website. Ordering less than 40SF of this product without the 40SF of other or same material will be cancelled and refunded to protect the customer from receiving damaged material in freight.  
Redid the living room and used this. Feels more "adult" now, and ready for hosting.
The crown chair-rail moulding in Thassos White has been a classy addition to my space.
Rating provided by a verified purchaser
The chair-rail moulding in our study is a subtle touch that adds so much depth.
---