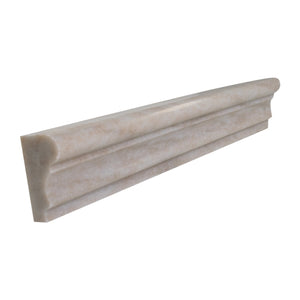 All Marble Tiles
Palissandro Crown Ogee 2x12 Polished Tile
MINIMUM ORDER OF 40SF REQUIRED FOR THIS PRODUCT. SEE DESCRIPTION FOR DETAILS.
Regular price
$12.50
Sale price
$13.50
Unit price
per
Samples are a smaller part of the original tile. As marble is a natural stone there is variation in color and veining between products. Due to different lighting from your computer screen the image shown may vary slightly in color. It is recommeded to order a sample first. 

Material: Palissandro
Color: White & Grey & Brown
Size: 2"X12"
Sold By Piece
Recommended Installation: Floor, Wall, Accent, Backsplash, Shower
40 SF of material required to ship with this item
Palissandro is a gorgeous marble that will look breathtaking in a kitchen or bathroom setting. The cool and warm tones of color in the marble add the perfect pop of color to a room!
The 40SF can be made up of a combination of products from our website. Ordering less than 40SF of this product without the 40SF of other or same material will be cancelled and refunded to protect the customer from receiving damaged material in freight.
Rating provided by a verified purchaser
timely and safe delivery
Ideal match for my tiles. Easy to use for finishing my bathroom walls.
---