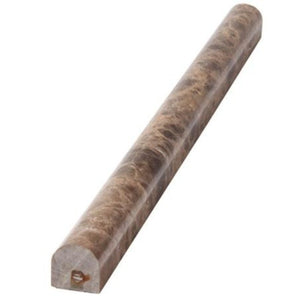 All Marble Tiles
Dark Emperador Polished Marble 1/2x12 Pencil Moulding
MINIMUM ORDER OF 100SF REQUIRED FOR THIS PRODUCT. SEE DESCRIPTION FOR DETAILS.
Regular price
$9.00
Sale price
$11.00
Unit price
per
Material: Dark Emperador
Color: Dark Browm
Size: 1/2"12"
Sold By Piece
Finish: Polished
Recommended Installation: Floor, Wall, Accent, Backsplash, Shower
100 SF Minimum matererial required to ship with this item
Dark Emprador Marble collection is a classic marble tile used in five start hotels.This is a great chance to bring that intercontinental feeling to your bathroom,kitchen or living room. Dark Emprador is a one of a kind marble tile resemblinga jewel stone with a touch of espresso brown hue. Like the Antic marble, theDark Emprador also spots dark veins vividly running through the tile, whichadds to its sophisticated luster.TheDark Emprador Marble collection can create that masterpiece grand entrance toyour living room or a striking environment where you take your warm baths in.This same espresso brown effect can paint your entire kitchen blending in withthe matching brown kitchenware you have. Moreover, you can decide to use oneshade of Dark Emprador Marble tile or you can work with different browns to addsome sophistication.Marbleis known to create a natural stone look in any room it is used in and it isquite tough and resistant to damage. Maintenance is pretty easy as well becauseit doesn't stain that easy and you only need a rug and detergent to wipe thesurface once a while to maintain the sparkle. You can order our Dark Emprador Marble Collection anytime and we'll makethe delivery to your door step.
 Samples are a smaller part of the original tile. As marble is a natural stone there is variation in color and veining between products. Due to different lighting from your computer screen the image shown may vary slightly in color. It is recommeded to order a sample first. 

The 100SF can be made up of a combination of products from our website. Ordering less than 100SF of this product without the 100SF of other or same material will be cancelled and refunded to protect the customer from receiving damaged material in freight.
The pencil moulding in our bedroom adds a neat finishing touch. Love it.
The 1/2x12 Dark Emperador pencil moulding adds the perfect polished touch.
Rating provided by a verified purchaser
---