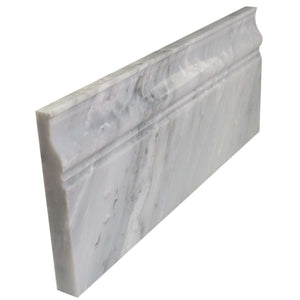 All Marble Tiles
Arabescato Carrara Honed 5x12 Base Molding Marble Finishing piece| Floor or Wall Application| Base Wall Molding| Marble Base Mold| Finishing Trim Piece
MINIMUM ORDER OF 40SF REQUIRED FOR THIS PRODUCT. SEE DESCRIPTION FOR DETAILS.
Regular price
$17.00
Sale price
$21.00
Unit price
per
Material: Marble
Arabescato Carrara
Finish: Honed
Color: White And Light Grey
Size: 5"x12"
Sold By Piece
Recommended Installation: Base Wall, Wall, Accent, Shower

40SF minimum order of material required to ship with this item. 
Introducing the exquisite Arabescato Carrara Honed 5x12 Base Moulding, a magnificent marble finishing piece that adds elegance and charm to any space. This versatile trim piece is designed for both floor and wall applications, making it a perfect choice for your home or commercial project.

Crafted from high-quality Arabescato Carrara marble, renowned for its stunning beauty and durability, this base molding enhances the aesthetic appeal of any room. Its honed finish showcases the natural veining and distinct patterns, adding a touch of sophistication to your interior design.

Whether you're looking to enhance your bathroom, kitchen, living room, or any other area, this marble base molding serves as a perfect accent, seamlessly blending with various decor styles. Its 5x12 dimensions offer a versatile sizing option, ensuring a sleek and polished look for your walls or floors.

With its exceptional quality and timeless appeal, this base molding acts as a finishing trim piece that elevates the overall aesthetic of your space. Its smooth edges and precise craftsmanship make installation hassle-free, saving you valuable time and effort.

Create a luxurious atmosphere with the Arabescato Carrara Honed 5x12 Base Moulding, as it brings together the elements of style, durability, and natural beauty. Transform your home or commercial space into a haven of elegance and sophistication with this remarkable marble finishing piece.

Samples are a smaller part of the original tile. As marble is a natural stone there is variation in color and veining between products. Due to different lighting from your computer screen, the image shown may vary slightly in color. It is recommended to order a sample first. 
40SF minimum of material is required to order this item. 40SF of material required to purchase this item. The 40SF can be made up of a combination of products from our website. Ordering less than 40SF of this product without the 40SF of other or same material will be cancelled and refunded to protect the customer from receiving damaged material in freight.
Tile Calculator
I know the sq. ft. area I want to tile. Calculate the number of tiles I need to order:

I know the size of the area I want to tile. Calculate the number of tiles I need to order:
You need units. We recommend that you order units (10% extra) to cover cuts and future repairs.
---