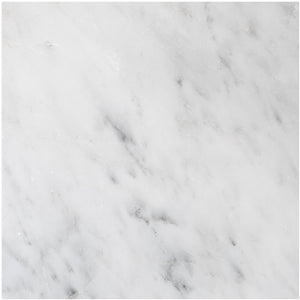 All Marble Tiles
Arabescato Carrara 18x18 Honed Marble Tile $15.99/SF | Luxurious Italian Marble| Durable Flooring & Wall Tiles| Kitchen Floor| Bathroom Floor Tile| Large Format Tiles
MINIMUM ORDER OF 90SF REQUIRED FOR THIS PRODUCT. SEE DESCRIPTION FOR DETAILS.
Regular price
$179.88
$0.00
Unit price
per
Material: Marble
Arabescato Carrara
Color: White And Light Grey
Finish: Honed
Sheet Size: 18"x18"
Coverage: 11.25 SF
Sold By Box- 5 Tiles/Box
Recommended Installation: Floor, Wall, Accent, Backsplash, Shower Walls

90SF minimum order of material required to ship with this item. 
Introduce a touch of Italian sophistication to your home or office with our stunning Arabescato Carrara 18x18 Honed Marble Tiles. Available at an unbeatable $15.99 per square foot, these high-quality tiles blend aesthetic and durability. Each tile showcases the distinctive grey veining of Arabescato marble, a feature that's made this type of marble a beloved choice among architects, interior designers, and homeowners around the globe.

Perfect for enhancing any space, these tiles are particularly striking when used in kitchens, bathrooms, living rooms, or hallways, transforming them into spaces that exude elegance and luxury. Considering a home renovation or embarking on an office revamp? These tiles offer a stylish and sturdy solution that will leave a lasting impression.

The honed finish of our Arabescato Carrara marble tiles is more than just beautiful—it's also practical, offering a more slip-resistant surface compared to polished marble. This makes it an excellent choice for flooring in areas where water might make floors slippery, like bathrooms or kitchens.

But it's not just the beauty and practicality that's made our tiles a hit. Their durability ensures they withstand the test of time, providing a sound investment for your home or business. Each tile is meticulously crafted, guaranteeing a product that's as robust as it is aesthetically pleasing.

Elevate your interiors to new heights with our Arabescato Carrara Marble Tiles and experience the timeless charm and durability of high-quality Italian design. Start your transformation today!
Samples are a smaller part of the original tile. As marble is a natural stone there is variation in color and veining between products. Due to different lighting from your computer screen, the image shown may vary slightly in color. It is recommended to order a sample first. 
90SF of material required to purchase this item. The 90SF can be made up of a combination of products from our website. Ordering less than 90SF of this product without the 90SF of other or same material will be cancelled and refunded to protect the customer from receiving damaged material in freight.       
Tile Calculator
I know the sq. ft. area I want to tile. Calculate the number of tiles I need to order:

I know the size of the area I want to tile. Calculate the number of tiles I need to order:
You need units. We recommend that you order units (10% extra) to cover cuts and future repairs.
---