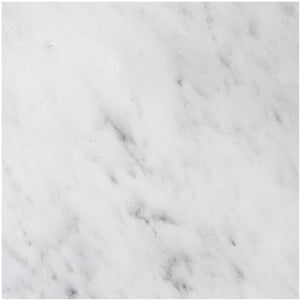 All Marble Tiles
Arabescato Carrara 18x18 Polished Marble Tile $15.99/SF| Floor Tile| Large Format Tile| White & Gray Marble| Bathroom Floor Tile| Kitchen Tile| Large Marble Floor Tile
MINIMUM ORDER OF 90SF REQUIRED FOR THIS PRODUCT. SEE DESCRIPTION FOR DETAILS.
Regular price
$179.88
$0.00
Unit price
per
Material: Marble
Arabescato Carrara
Color: White And Light Grey
Finish: Polished
Sheet Size: 18"x18"
Coverage: 11.25 SF
Sold By Box- 5 Tiles/Box
Recommended Installation: Floor, Wall, Accent, Backsplash, Shower Walls

90SF minimum order of material required to ship with this item. 
Revamp your space with the classic Italian elegance of our Arabescato Carrara 18x18 Polished Marble Tiles. Priced at an affordable $15.99 per square foot, these large format tiles offer exceptional value for your home improvement project.

Crafted from high-quality Arabescato marble, these tiles are known for their distinctive white and gray veining. Their large format design ensures a seamless and luxurious appearance, perfect for adding a touch of grandeur to your interiors.

Ideal as bathroom floor tiles or kitchen tiles, our polished Arabescato Carrara marble tiles effortlessly elevate any room's aesthetics. Their polished finish not only enhances the marble's natural beauty but also offers easy cleaning and maintenance - a must for busy homes.

The durability of these tiles ensures a lasting finish, making them a sound investment for your home or commercial project. The polished finish also provides additional protection, extending the life and maintaining the allure of the tiles for years to come.

Suited for a range of decor styles, from modern minimalistic to traditional, our tiles complement any color scheme. Make a style statement with these large marble floor tiles, whether it's for a complete home renovation or a kitchen or bathroom upgrade.

Discover the unbeatable combination of luxury, durability, and affordability with our Arabescato Carrara 18x18 Polished Marble Tiles. They're not just tiles, they're the foundation for your dream space. Start your transformation today!
Samples are a smaller part of the original tile. As marble is a natural stone there is variation in color and veining between products. Due to different lighting from your computer screen, the image shown may vary slightly in color. It is recommended to order a sample first. 
90SF of material required to purchase this item. The 90SF can be made up of a combination of products from our website. Ordering less than 90SF of this product without the 90SF of other or same material will be cancelled and refunded to protect the customer from receiving damaged material in freight.       
Buying more now. love these tiles.
Tile Calculator
I know the sq. ft. area I want to tile. Calculate the number of tiles I need to order:

I know the size of the area I want to tile. Calculate the number of tiles I need to order:
You need units. We recommend that you order units (10% extra) to cover cuts and future repairs.
---