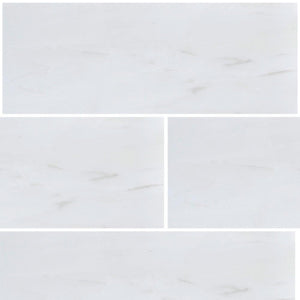 All Marble Tile
Dolomite 3x9 Polished Marble Tile $18.00/SF
MINIMUM ORDER OF 60SF REQUIRED FOR THIS PRODUCT. SEE DESCRIPTION FOR DETAILS.
Regular price
$90.00
$0.00
Unit price
per
Material: Dolomite
Color: White
Size: 3"x9"
Coverage: 4.5 SF
Sold By Box
Finish: Polished
Recommended Installation: Floor, Wall, Accent, Backsplash, Shower
60 SF minimum of material required to ship with this item
Dolomite Marble is a warm white marble with light grey and taupe streaks. Using this beautiful white marble in your space would bring a tone of elegance and luxurious feel to your room without being overcrowded. This gorgeous marble is one of the most beautiful white marbles and also one of the most popular stones. The white background is not only warm and uniform but the veining is also a very light to medium grey. This light color stone makes it very easy to incorporate in classic or modern settings.
Dolomite Marble is quite strong and can be used on bathroom floors, walls, foyers, and other interior applications. We carry Dolomite Marble in slab, tiles, mosaics and trim pieces. Finishes also available in Polished.
Samples are a smaller part of the original tile. As marble is a natural stone there is variation in color and veining between products. Due to different lighting from your computer screen the image shown may vary slightly in color. It is recommeded to order a sample first. 
The 60SF can be made up of a combination of products from our website. Ordering less than 60SF of this product without the 60SF of other or same material will be cancelled and refunded to protect the customer from receiving damaged material in freight.
I recomended this wall tile!! Looks super!!
We love this tile!! It's easy installation and easy to clean!
Tile Calculator
I know the sq. ft. area I want to tile. Calculate the number of tiles I need to order:

I know the size of the area I want to tile. Calculate the number of tiles I need to order:
You need units. We recommend that you order units (10% extra) to cover cuts and future repairs.
---