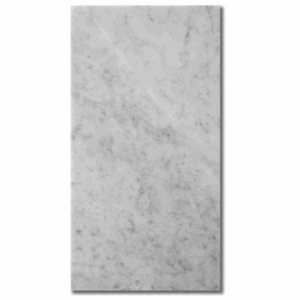 All Marble Tiles
Bianco Carrara 12x24 Marble Tile $12.68/SF Polished
MINIMUM ORDER OF 100SF REQUIRED FOR THIS PRODUCT. SEE DESCRIPTION FOR DETAILS.
Regular price
$126.80
$0.00
Unit price
per
Material: Marble
Bianco Carrara
Finish: Polished
Size: 12"x24"
Color: White/Grey
Coverage: 10 SF/Box
Sold By Box
Recommended Installation: Wall, Accent, Backsplash, Shower Wall

100SF minimum order of material required to ship with this item. 
The Bianco Carrara collection or white Carrara Collection allows you to play with colors for your interior. Besides getting a lovely option of pure white on tile, this collection also features a white grey hue to try. With these two colors, you can create a modern or classic looking theme in your home according to preference. Any plain looking house has a chance of being tweaked up by the right size and color in the Bianco Carrara or White Carrara collection. There is sophisticated inspiration about these tiles which will complement your high-end European furniture, state of the art kitchen or a modernly designed bathroom. The possibilities of playing with size and color give you an advantage of trying different options before deciding what suits you best. The Bianco Carrara floor tile collection not only upgrades your home but the ambiance it creates also speaks volume about your personality as well. Do you want your guests to go wow each time they walk into your home? Bianco Carrara collection is the renovation you are looking for! This collection is the answer to making your living room, kitchen or bathroom posh looking. The tiles are tough and durable, and we have the best experts to help you install the tiles.
Samples are a smaller part of the original tile. As marble is a natural stone there is variation in color and veining between products. Due to different lighting from your computer screen the image shown may vary slightly in color. It is recommeded to order a sample first. 
100SF of material required to order this item. The 100SF can be made up of a combination of products from our website. Ordering less than 100SF of this product without the 100SF of other or same material will be cancelled and refunded to protect the customer from receiving damaged material in freight.  
The 12x24 tile's quality and sheen made my room shine.
Loved this choice for my living room floor.
This really brought my dream kitchen to life. Thank you !!!!
Impressed by the material and finish of this large tile.
Tile Calculator
I know the sq. ft. area I want to tile. Calculate the number of tiles I need to order:

I know the size of the area I want to tile. Calculate the number of tiles I need to order:
You need units. We recommend that you order units (10% extra) to cover cuts and future repairs.
---