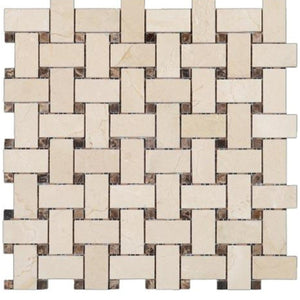 All Marble Tiles
Crema Marfil Polished Marble Basketweave With Dark Emperador Dots
Regular price
$14.50
Sale price
$16.00
Unit price
per
Samples are a smaller part of the original tile. As marble is a natural stone there is variation in color and veining between products. Due to different lighting from your computer screen the image shown may vary slightly in color. It is recommeded to order a sample first. 

Material: Crema Marfil
Color: Beige/Tan
Sheet Size: 12"x12"
Chip Size: 1"x2"
Coverage: 1 SF
Sold By Sheet
Finish: Polished
Recommended Installation: Floor, Wall, Accent, Backsplash, Shower
Just like Bella Marble, Cream Marfil Marble Collection also comes in beige whichallows for different experimental designs with your home. These aremultipurpose tiles fit for use either in the kitchen, living room or the bathroom.There are two floor styles to try out in this collection; either classic ormodern designs.TheCrema Marfil Marble collection are more than just tiles, they are lifestyle.Any clean house that lacks tiling still appears missing in an element. TheMarfil Marble designed tiles will complete that décor equation you have beenlooking for, bringing your house to life and creating an enviable ambience toyour guests.Thecollection comprises of different sized tiles which also may vary how strongthe beige color is. Once you have your room measurements right, you can orderfor the right amount of Crema Marfil Marble collection to start renovating yourhouse. From our tile experts, it is advisable to buy a bit in excess of thetarget number; this will come in handy when you want to replace broken tiles orcover up minute sections of the wall or floor.TheCrema Marfil Marble collection brings out the true beauty of your house andthey are easy to maintain.
Chose the Crema Marfil Polished Marble Basketweave with Dark Emperador Dots for my bathroom renovation and have zero regrets. It adds a classic, elegant touch, and cleaning is a breeze.
Beautiful tile
We are still waiting to get the tile installed but it is beautiful and a high quality at a good price. Will use this company again.
Thank you so much for your review! I'm so happy you love the tiles :)
This design elevated my space. Would definetly reccomend!
High-quality tones that enhanced my bathroom.
Excellent choice for kitchen cabinets' toe kick and for use on window ledges.
Tile Calculator
I know the sq. ft. area I want to tile. Calculate the number of tiles I need to order:

I know the size of the area I want to tile. Calculate the number of tiles I need to order:
You need units. We recommend that you order units (10% extra) to cover cuts and future repairs.
---